I was approached to create a mural for the Los Angeles Memorial Coliseum and Sports Arena in celebration of the 2015 World Games. A lasting study of portraiture and iconography paying tribute to the influential greats that have directly graced the city's landmark arena. This mural effort spans along the back entrance of the coliseum measuring 220 feet in length while reaching roughly 20 feet in height.
These cultural saints include:
John F Kennedy, who's memorable acceptance speech at the 1960 Democratic National Convention was held at the Coliseum. It was during that speech that Kennedy first used the term "the New Frontier".
Martin Luther King Jr., Freedom Rally at the Los Angeles Sports Arena. An audience of 12,000 was expected at the 18,000-seat venue. When over 25,000 people showed up to hear King speak, many remained outside and listened to the speech over loudspeakers.

Marcus Allen, USC's fourth Heisman Trophy winner, was college football's first 2,000-yard rusher. When he captured the award in 1981, Marcus set 14 new NCAA records and tied two others, including most yards rushing in a single season (2,342), highest per-game average (212.9), most 200-yard games in a career (11), most 200-yard games in a season (8) and most 200-yard games in a row (5).  Allen also led the Trojans in receiving with 30 and 34 catches in each of his last two seasons.
Eunice Shriver, Founder of the Special Olympics and longtime advocate for children's health and disability issues, is depicted nurtruing the strength in special needs olympian, Raymond Hooper. Shriver was a key founder of the National Institute of Child Health and Human Development (NICHD), a part of the National Institutes of Health
Raymond Hooper, When Ray Hooper accepted his award as Special Olympics Athlete of the Year in 2009, he said "It's been a long journey for me to get here."
That journey began 29 years ago when Ray first joined Special Olympics in Santa Barbara, California. Before that, he'd suffered through rough times. "I've had some pretty bad things happen to me in most of my life," Ray remarked. "Special Olympics has helped me learn how to stand up for myself in real life."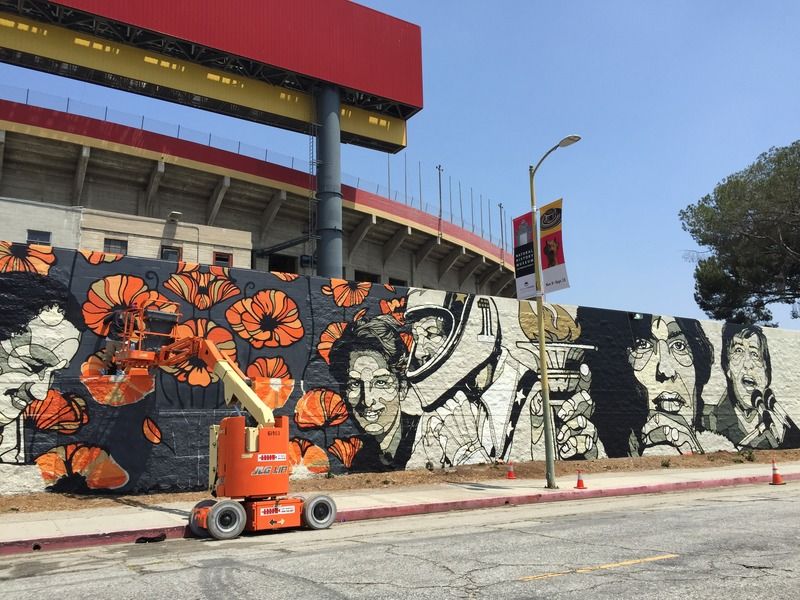 Babe Didrikson, gained world fame in track and field and All-American status in basketball. She played organized baseball and softball and was an expert diver, roller-skater, and bowler. She won two gold medals and one silver medal for track and field in the 1932 Los Angeles Olympics held at the Memorial Coliseum and Sports Arena.
Evel Knievel, American daredevil, painter, entertainer, and international icon. In November of 1973 Knievel successfully jumped over 50 stacked cars at Los Angeles Memorial Coliseum.
The Olympic Flame, is a symbol of the Olympic Games.[1] Commemorating the theft of fire from the Greek god Zeus by Prometheus, its origins lie in ancient Greece, where a fire was kept burning throughout the celebration of the ancient Olympics. The fire was introduced at the 1928 Summer Olympics in Amsterdam, and it has been part of the modern Olympic Games ever since. In contrast to the Olympic flame proper, the torch relay of modern times, which transports the flame from Greece to the various designated sites of the games, had no ancient precedent and was introduced by Carl Diem at the 1936 Summer Olympics in Berlin.[ The Coliseum is the first stadium to have hosted the Olympic Games twice, in 1932 and 1984 leaving The city of Los Angeles with a lasting impression of pride.

Mick Jagger, is an English singer, songwriter and one-time actor, best known as the lead singer and a founder member of The Rolling Stones. Jagger's career has spanned over 50 years, and he has been described as "one of the most popular and influential frontmen in the history of rock & roll" During the Los Angeles Coliseum stops on the tour, the band played a Friday and Sunday show and USC had a football game in between on Saturday. As a televised football game, viewers could see the full stage set-up and often field goals would land on stage at the East end zone. The 1981 Tour was the largest grossing tour of not only 1981, but for several years to come.
Cesar Chavez, leader of the United Farm Workers, which was formed to improve the rights and working conditions of migrant farm workers. Chavez's leadership was based on an unshakable commitment to non-violence, personal sacrifice, and a strict work ethic.[8] Having devoted his life to the cause, he demanded great dedication from his supporters. Chavez said, "You must become a servant of the people. When you do, you can demand their commitment in return." Chavez honored Dr. King in a 1968 memorial at the Los Angeles Coliseum, decades before his 1990 speech given at the iconic Los Angeles Coliseum and Sports Arena.
This mural effort is made possible with the support of Branded Arts along side The Mural Conservancy of Los Angeles. We would like to thank The City of Los Angeles, USC Board of Commissioners for their on going support and assistance throughout the approval process.  Mural is Located along the back entrance (Gate 16) to The Los Angeles Memorial Coliseum and Sports Arena. Closest cross streets are Bill Robertson Ln & W 39th St.
Photography: Jordan Ahern, Olivia Bevilacqua, Jay Kantor